According to a recent study by PwC, mobile will grow faster than the online advertising market as a whole for the forecast period, boasting a CAGR of 13.1%. In 2019, mobile is expected to account for 70% ($86.3 billion) of all online advertising in the US. By 2023, that percentage is expected to reach around 81% ($129.5 billion). This makes PwC's renewed mobile figures for this year far more bullish than those released last year.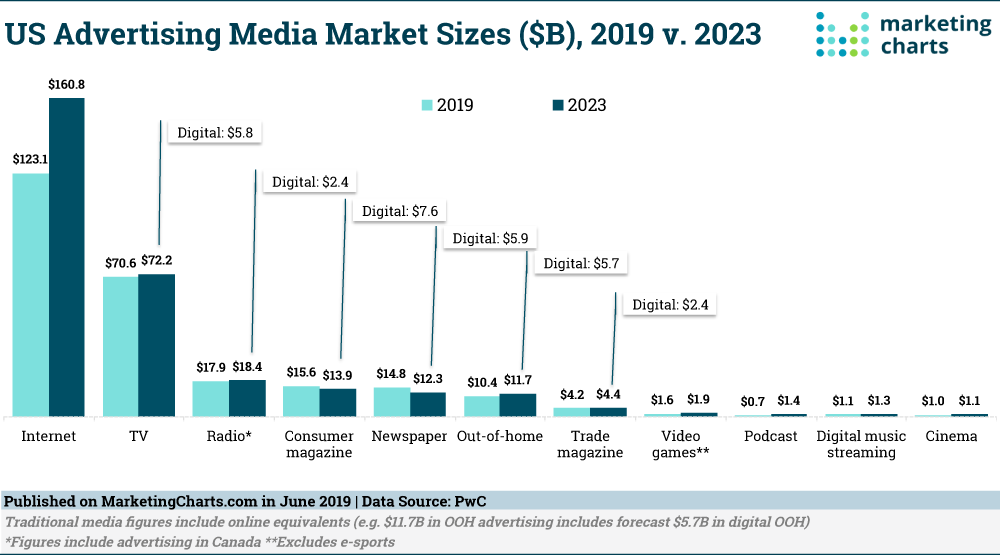 This growth comes as other forms of media are expected to be flat, or slightly down over the next 3-4 years. Much of the growth in traditional media is fueled by digital, such as streaming services or digital OOH units.
One of the more interesting things to note from this chart is that overall media spend is on pace to increase over the coming years. This means that any shift from traditional to digital is not 1:1.
This kind of change in spend is good news for all sellers. More money being spent means traditional sellers, who have long been concerned about losing dollars and clients to digital, have less to fear. They will need to adapt, but rumors of traditional media's death appear to be exaggerated.
Other things of note from the article:
Podcast Advertising
The compound annual percentage growth forecast is well into the double digits, at 23.1% through to 2023, by which time podcast advertising will hit $1.4 billion – making that number double this year's ($0.7 billion). PwC also cites other research that finds that, on the whole, podcast listeners typically have higher incomes and educational attainment levels than average.
Video Game Advertising
It may surprise you to find out that video game advertising is a larger market than either cinema advertising or newer formats such as podcast and digital music streaming advertising.
This year, about $1.6 billion will be spent on advertising in video games, growing to $1.9 billion by 2023. It is still however only a small part of the income of the video game industry, which is a $25.6 billion market in the US, per PwC.
MarketingCharts's article has lots of great information about trends and expectations over the next few years. If you work in the space, I recommend you read the whole article by clicking here.
If you are looking for more information about how to sell digital media, I recommend you check out the Digital Ad Sales Certification on AdCoach. This course reviews how you can sell digital products without owning a major website or app. It's a great way to get started with digital sales, or grow your existing business to seven figures.