I've received a number of questions lately about ways to promote websites and content for free. While most people will think about social and trying to making things go viral, I get the impression that lots of people are skipping over the most important thing to focus on, SEO.
Don't know what SEO is, or where to start? Then keep reading.
SEO (Search Engine Optimization) is the process of optimizing your online content so that search engines like Google can easily find it.
When you are analyzing your website traffic there are three main categories that all traffic falls into. Paid, Owned, Earned.
Paid traffic is anything that comes from a paid advertisement or placement. If you buy Facebook ads any traffic from those ads is Paid. Same thing if you pay a blogger to promote a link. Any traffic from that link is paid traffic.
Owned traffic is organic or direct traffic. If people know your domain and go directly there, or they find you through a search engine, or your social channel, that is all Owned traffic. This is traffic you aren't paying for.
Earned traffic is traffic that is generated as a result of paid, but not directly paid for. For example, you pay a blogger to promote your link and one of their readers takes that link and shares it on their social channel. You didn't pay that reader to do that, but they wouldn't have seen that link if it wasn't for the blogger that you did pay. Any traffic from that reader's social page is Earned traffic.
SEO falls into the Owned Traffic section. You want to make sure your website is setup so that search engines can easily find you. Search engines like Google constantly scan the web looking for content. Then when you search a term like "men's shoes" Google will show you a list of sites that best meet that search term based on what Google sees on those sites when they scan them.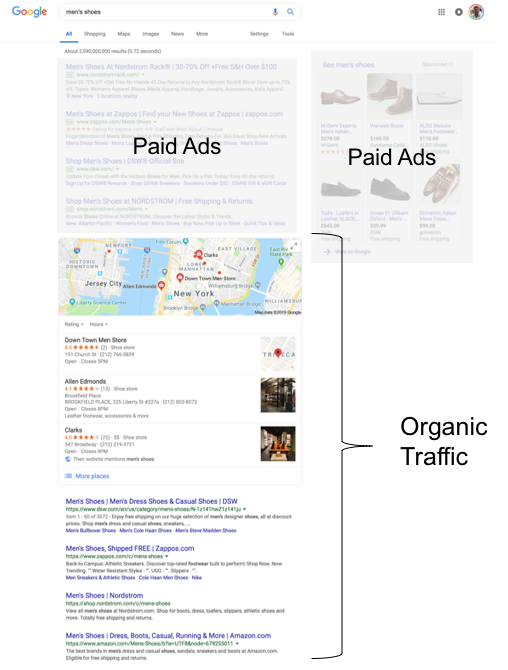 These scans are done by bots, so you need to make sure your website is setup for bots to read, not humans. That means if you have lots images the bot may not know what's on the site and skip over it, even if it is relevant content. But there are ways to keep that from happening.
Let's review some top SEO best practices:
Easy to read content: Your site should be designed so that a bot can easily read it. That means text helps, and in the right spot. Do you have a "headline" and simple description of your site somewhere? Make sure you clearly explain each page on your site and you have text that isn't hidden.
Unique content: You can't just have text you copy and paste from somewhere else, it needs to be unique. Google can tell if you copy and pasted from another site and even if you have a ton of text and content, you won't show on Google search results because they know you just stole it.
Alt Text: If you have images, make sure to fill out the Alt Text. Alt Text is a description of what the image is. Most site building tools like Wordpress, SquareSpace, and Wix give you the option to easily add this info. When coding from scratch make sure to include this tag with any images as bots will read this and understand what the image content is.
Sitemaps & Ease of Use: If your site has multiple pages make sure they are easy to get it and all linked to each other. If the bot can't navigate your site, it won't get favorable rankings. Also, Sitemaps help the bots navigate your site. A sitemap is page with links to every page on your website. There are tools to help create this so you don't have to do it all on your own.
Links to your site: A great way to help ranking is to get other sites to link to you. If Google sees that other sites are linking to you it will assume you have good content. Not all links are equal though. A link from The New York Times will be worth much more than a link from your mom's blog. Finding ways to reach out to other sites, send press releases, etc. can really help with this.
Google Webmaster: Google's Webmaster tool is a free tool that website owners should use. It allows you to submit your site and sitemap directly to Google and make sure your site is indexed. It will also tell you how many searches there are for your site, if you have any errors and how to fix them, and other helpful tools.
There are other things you can do that will help SEO, but these starters are must-haves for anyone getting started with a site. If you are launching a new website and handling SEO, paid ads, content creation, and everything else required of a startup founder, you may feel overwhelmed. My recommendation is to make sure to follow the above best practices on your own and then look for additional help for anything beyond that.
Depending on your content, goals, age of your site, budget, and more factors you will have lots of options when it comes to help with your SEO. Don't go overboard too fast and know that results take time. If you do everything outlined above you won't see a jump in traffic tomorrow, but you should see a steady increase over the next 2-3 months.
Like anything in life, doing SEO right is better than doing it fast. So take your time, do your research, and have fun with it!